Great Bear: Gold Exploration's Hottest Success Story for 2018 (StockHouse).
Hitting the ball out of the park is about the only way to succeed in a lackluster gold market. And that's exactly what Great Bear Resources Ltd. (TSX: V.GBR, OTCQB: GTBDF, Forum) just did.

Great Bear appears to have made an historic gold discovery in the famed Red Lake district of Ontario, where over 30 million ounces have been mined to date.
Last week, the tiny gold explorer reported a high-grade gold discovery in the Hinge Zone at its Dixie Project in the Red Lake District of Ontario.
One drill hole returned bonanza values of 16.35 metres of 26.91 g/t gold, including separate sub-intervals of 5.05 metres of 51.39 g/t gold and 1.0 metre of 112.63 g/t gold. Another drill hole intercept returned 7.00 metres of 44.47 g/t gold, including 2.00 metres of 143.24 g/t gold.
These are extraordinarily good results and rank as some of the best I have ever seen in 30 years of covering the mining sector.
Better still, all of these intercepts occur within 110 metres of surface, with this mineralization shown to be "open" (continuous) in all directions.
This is almost certainly a "company maker" discovery, especially considering how Goldcorp became the mining powerhouse that it is today after cashing-in on its high-grade, multi-million-ounce flagship Red Lake mine.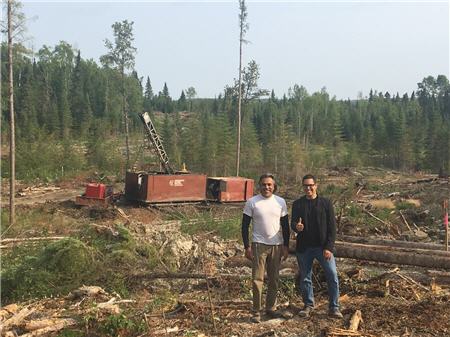 Pictured above company CEO Chris Taylor and Vice President of Exploration Bob Singh celebrating great drill results.
Lustrous Drilling Results Sweeten Great Bear's Appeal Exponentially
So will Great Bear become the new Goldcorp? Of course not. And that's simply because it will no doubt get gobbled up by a deep-pocketed suitor in the eventuality that a sizeable high-grade deposit is outlined by more extensive drilling.
Who therefore would make a prospective white knight for Great Bear? Well, we need look no further than Goldcorp – which is no doubt looking for proximal bolt-on additions to its existing Red Lake mining operations. That said, such a major transaction is not a foregone conclusion. But it seems like an obvious fit.
The appeal of Great Bear's Dixie Project is exactly why I began covering this intrepid explorer a year ago when the stock was trading at $0.30 and the company was starting to unlock the value to its lustrous property.
In fact, Great Bear is the only emerging gold story that I can be currently bullish on due to its potential to unearth a world-class gold discovery in a world-class gold belt — at the heart of Canada's richest gold field.
The company's expansive exploration concessions cover nearly 10,000 hectares of Ontario's Red Lake Mining District. This is where a handful of world-class gold mines already exist. And they all benefit from high mining grades, as well as low operational costs due to the abundance of mining infrastructure in this storied gold camp.
This reality speaks to the fact that the Red Lake area has always proven to be geologically very fertile for important gold discoveries, including recent ones. This is why Great Bear has painstakingly consolidated a large land package for the first time ever, while ensuring that there are no royalties owed to any outside parties on its 100%-owned property.
Unlocking the Value to a Potentially "Elephant-Sized" High-Grade Deposit
To date, Great Bear has identified a multi-kilometre mineralized trend that spans the length of the property for at least 10 kilometers. This includes an initial 2.5-kilometer-long stretch of mostly continuous gold mineralization that includes the Hinge Zone and other satellite gold showings.
In fact, the company has to date focussed its efforts around the Dixie Project, which is where it has consistently encountered high-grade intercepts over the last two exploration seasons. In essence, the company's management believe they have discovered the strike extensions of a large mineralized system where plunging bonanza gold shoots have been identified.
This has taken a lot of geological sleuthing, involving the building of a geological model to determine the structural controls of the high-grade mesothermal vein system that sits at the heart of Dixie's main discovery area.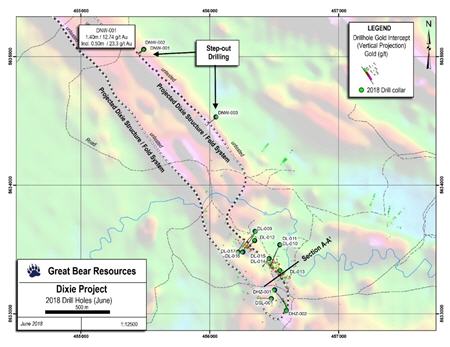 Click to enlarge.
The key revelation from all this modelling is that previous past project operators miscalculated. They concluded that the known high-grade systems on the property are too inconsistently endowed with gold to constitute a viable gold deposit. This is proving to be far from the truth, much to the delight of Great Bear.
In fact, the company's latest round of drilling attests instead to the existence of thick, continuous intercepts of rich gold mineralization that may yet prove to be very expansive along both lateral and vertical planes.
However, all this geological detective work however would not have been possible were it not for Great Bear having access to a treasure trove of historic data on this sprawling property, including assays from around 160 historical drill holes (mostly in the Dixie area) that were conducted over a 30-year span.
These historic drill results include intercepts as rich as 2.2 metres of 17.2 grams per tonne of gold and 12.34 metres of 7.54 grams per tonne of gold. These impressive figures nonetheless pale in comparison to Great Bear's latest lustrous results.
Investment Summary
To date, Great Bear has made great strides already in advancing exploration at its flagship Dixie Project on an expedited timeline. Most importantly, the 'big picture' potential for a large world-class gold discovery is shaping up very nicely.
Consequently, Great Bear may be well on its way to drill-defining a major multi-million-ounce discovery among some of the world's richest gold fields – and in a mining camp with excellent infrastructure and relatively low mining costs.
So it comes as no surprise, therefore, that the company has just announced that the man who put Goldcorp's Red Lake mine on the map – mining magnate Rob McEwen – is investing $6 million in cash in Great Bear as part of a $10 million private placement. His contribution comes in the form of a personal $4.8 million investment and $1.2 million from his company, McEwen Mining.
The former president of Goldcorp obviously likes what he sees in what may yet shape up to be the next world-class Red Lake type of high-grade gold discovery at the Dixie Project.
On a technical note, the company had approximately 23 million shares outstanding prior to this latest financing. It will even maintain a very tight share structure after the latest $1.45 financing closes, with only about 30 million shares issues – about 20% of which is controlled by management.
When matched with positive news flow, this typically acts as a powerful catalyst to higher share price valuations. And that certainly has proven to be the case so far with Great Bear soaring from around $0.60 to as high as $2.03 in recent trading sessions.
With this in mind, Great Bear is continuing to drill another 15-20 shallow step-out holes spanning 5,000 metres in the coming weeks in order to get a preliminary grasp on the size and overall grade of the emerging world-class gold discovery at Dixie.
So there promises to be plenty of excitement with the announcement of the next round of assay results – likely propelling Great Bear to even higher valuations. Accordingly, Great Bear is shaping up to be this year's best-performing gold stock by far.
ABOUT THE AUTHOR: Marc Davis has a deep background in the capital markets spanning 30 years, having mostly worked as an analyst and stock market commentator. He is also a longstanding financial journalist. Over the years, his articles have also appeared in dozens of digital publications worldwide. They include USA Today, CBS Money Watch, Investors' Business Daily, the Financial Post, Reuters, National Post, Google News, Barron's, China Daily, Huffington Post and AOL.
FULL DISCLOSURE: Great Bear Resources is a paid client of Stockhouse Publishing.
Read more at https://stockhouse.com/news/newswire/2018/08/30/great-bear-gold-exploration-s-hottest-success-story-for-2018#zTF6kloKracs36zm.99