Summary
Newmont Goldcorp posted its second quarter of 2019 results on July 25. Revenues were $2.26 billion.
Gold production was higher this quarter with 1,587k Oz of gold, including Goldcorp's assets and the JV with Barrick Gold.
Newmont Goldcorp remains one of the best plays in the gold mining sector and should be considered as a long-term investment. I recommend adding on weakness.
Investment Thesis
Newmont Goldcorp (NEM) is the world's largest gold producer after the company completed the merger with Goldcorp. Newmont Goldcorp that I own with my other two long-term gold miners constitute my core long-term "gold miners," including Agnico Eagle (AEM) and Barrick Gold (GOLD).
Newmont Goldcorp produced 1.587M Au Oz during the second quarter of 2019.

It is crucial to own a few solid gold miners in your long-term portfolio. Investors often use gold miners as a hedge against inflation/US dollar. It is the traditional narrative behind why I am holding a permanent gold position, including stable gold miners like Newmont Goldcorp.
I generally allocate between 5% and 8% of my total portfolio to precious metals – gold, platinum, and palladium mainly.
The mighty dollar continues to be firm this year, but the gold price had strongly rallied when the Fed changed its strategy from tightening to now easing.
This change in strategy pushed the entire gold industry into bullish territory overnight. However, unfortunately for shareholders, Newmont Goldcorp has underperformed its peers significantly as the one-year chart below is painfully showing compared to Barrick Gold or Agnico Eagle.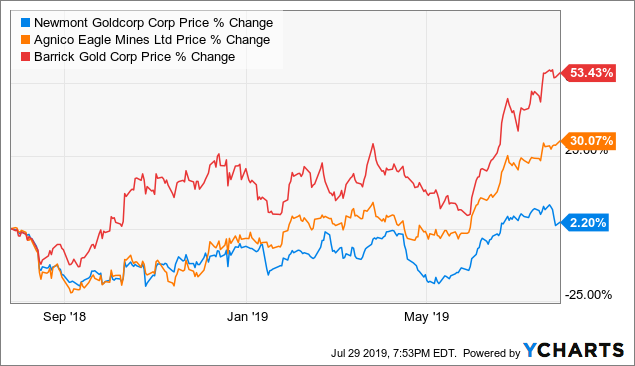 Newmont dropped sharply in reaction to the recent merger with Goldcorp and in a lesser extent with the JV with Barrick that I will present later. Goldcorp's assets are below standard, and Newmont is beginning to understand how troubled they were and how long it will take to fix the problem. Already Tom Palmer, who will soon take over as new CEO, said in a telephone interview:
"It's going to take us 24 to 36 months to really get those assets performing to the level that we'd expect, but the underlying infrastructure, the underlying ore bodies, are really good."
Also, a few technical issues arose, such as the temporary shutdown of the operations at the Penasquito Mine in Mexico and a fire in April at Musselwhite mine, that have been a definite drag for the company.
The Penasquito mine produced 272,000 ounces of gold in 2018 for Goldcorp. The gold production for 2Q'19 was a meager 14K Oz. Newmont now anticipates consolidated production of 165,000 ounces of gold from Penasquito in 2019.
The investment strategy has been the same for quite a long time. Newmont Goldcorp remains one of the best play in the gold mining sector and should be considered as a long-term investment. However, it is essential to trade short term about 20%-30% of your position due to the volatility of the price of gold, which can rally or sell off overnight.
The new results are confirming my long-term position, and I still consider Newmont Goldcorp as the right candidate for a long-term investment. However, the acquisition of Goldcorp has been a disappointment due to the quality of the assets, and I believe the new company will struggle for a while longer before properly incorporating Goldcorp's assets and make them attractive. Thus, a few quarters of patience is required.
Newmont Goldcorp assets' portfolio worldwide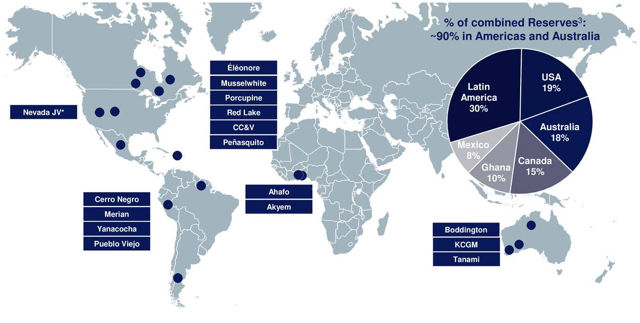 Source: NEM presentation