Gold Conferences & Events
Here you will find the latest events that are taking place in the precious metals market. If you would like your event added to this list, please email your details to: Roland@InstitutionalAnalyst.com
JUNE 2019
15 – 18 June 2019
PepperMill Resort and Casino, Reno, Nevada
18 – 19 June 2019
Frankfurt, Germany

Mining Investment Europe is a strategic mining conference and exhibition for the leaders of the mining, quarrying and construction materials industries, bringing together 250 attendees from 20 countries.

Mining companies, investors, governments and service providers travel from all over Europe, Middle East, Asia and North America for two days of partnering, networking and business matching.
24 – 25 June 2019
8 Northumberland Avenue, London

Mining Journal Select London is a carefully selected group of projects as nominated by the Mining Journal from around the world.

Our Mining Journal Intelligence unit has developed a robust and in depth methodology to establish a shortlist of what we consider to be the most promising projects in the market today.

We have combined our renowned industry insight and project knowledge to put together a two day event to both discuss key market issues, and promote only the best opportunities to our global investor audience.
JULY 2019
08 July 2019
Goldsmiths Hall, London

This Congress forms part of a series of activities by the Goldsmiths' Company to advance and disseminate knowledge and to encourage research and its exploitation in the field of jewellery & silverware technology. Its aim is to promote participation in new technologies and best practice that will lead to innovative design, improved quality and production efficiency and increase the expertise within our industry.
11 July 2019
Glaziers Hall, London
By Invitation Only
AUGUST 2019
05 – 07 August 2019
Kalgoorlie, Western Australia

This leading annual conference combines presentations by listed mining and exploration companies with a large exhibition area housing exhibitors from the sector. A world class entertainment program ensures that delegates experience the very best of the style and hospitality of Kalgoorlie, the unofficial gold mining capital of Australia
08 – 11 August 2019
Armritsar, India
SEPTEMBER 2019
04 – 05 September 2019
8 Northumberland Avenue, London

The Future of Mining EMEA has been created to connect C-suite, Heads and Managers of Mine Operations and Mining Equipment, Technology and Services (METS) providers from top enterprises around the globe to debate and define the future mining landscape across Europe, the Middle East and Africa (EMEA).
10 – 13 September 2019
Beaver Creek Resort, Colorado, USA

The 9th Annual Beaver Creek Summit will take place for three and a half days, starting Tuesday September 10, 2019 and concluding Friday, September 13, 2019.
11 – 13 September 2019
Crown Perth, Great Eastern Hwy, Burswood WA 6100, Australia

The World Gold Conference series is a joint venture between The Australasian Institute of Mining and Metallurgy (The AusIMM), the Southern African Institute of Mining and Metallurgy (SAIMM) and the Canadian Institute of Mining, Metallurgy and Petroleum (CIM).

World Gold will include all aspects of gold mining, including exploration, geosciences, mining (including geotechnical aspects), metallurgy (processing), environment and related themes.
12 September 2019
NM ROTHSCHILD – New Court, St Swithin's Lane, London
BY INVITATION ONLY

To be held on the centenary of the first gold price and held in the current Rothschild building which was built on the site of (the second) New Court, St Swithin's Lane, where the first gold price was set. We are grateful to Rothschild & Co for their support in co-hosting this event with LBMA.
OCTOBER 2019
13 – 15 October 2019
Shenzhen, China

Senior representatives drawn from all sectors of the precious metals markets will be in attendance at what is widely regarded as the premier event in the industry calendar.

In its 20th year, the Conference adds insight into the vital issues affecting the global precious metals markets.
27 – 31 October 2019
London

LME Week is the annual gathering of the global metals community in London. Representatives from the entire supply chain meet to discuss current trends in metals markets, what to expect for the year ahead, and to network with industry peers and colleagues.

The London Metal Exchange hosts two official flagship events, the LME Metals Seminar and the Annual Dinner.
28 – 31 October 2019
Melbourne Convention & Exhibition Centre, Melbourne, Australia

The International Mining and Resources Conference is Australia's largest mining event. The 2018 event brought together over 6,000 decision makers, mining leaders, policy makers, investors, commodity buyers, technical experts, innovators and educators from over 90 countries for four days of learning, deal-making and unparalleled networking.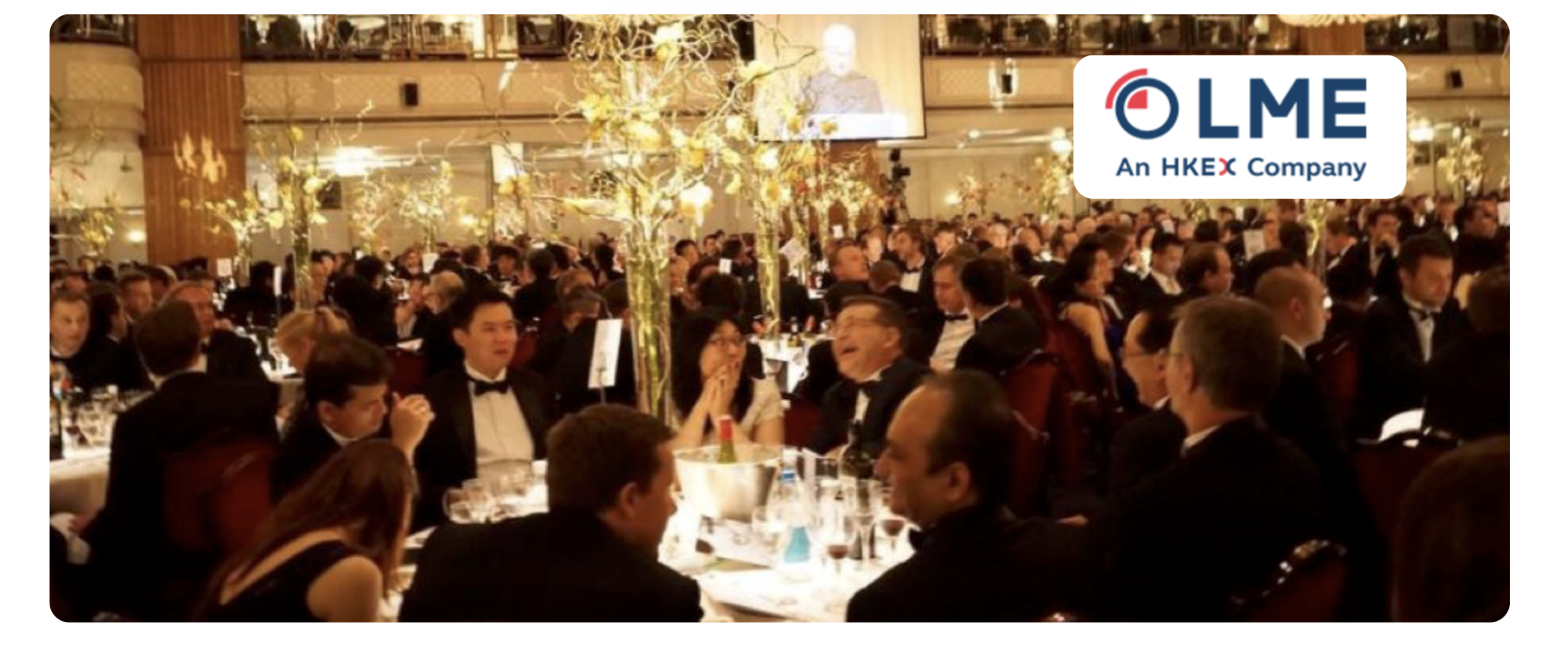 29 October 2019
The Grosvenor Hotel, London

Every year the global metals community gathers under one roof for our annual flagship events, the Metals Seminar and Annual Dinner. The annual dinner is an invitation only event attended by international VIP guests and clients of the LME membership.
NOVEMBER 2019
11 – 12 November 2019
Park Hyatt, Zurich, Switzerland

The 8th Annual Precious Metals Summit Switzerland is a private, by-invitation equity investment conference designed to introduce investors and portfolio managers to some of the most prospective investment opportunities currently available in the global precious metals sector. Our focus is on quality explorers, developers and emerging producers.

The Summit offers Swiss and European investors the opportunity to attend presentations and to meet privately with senior management in a professional yet convivial atmosphere.

Our Summits have earned an outstanding reputation for the quality of the investors and companies that attend, our efficient and professionally managed 1-on-1 meeting program, superb networking opportunities and high-caliber keynote speakers.

Registration is by invitation only to qualified investors, portfolio managers, and private wealth and family office managers.
25 – 28 November 2019
Business Design Centre, London

Mines and Money is the leading international event series for mining investment and capital raising.

We connect miners with money and investors with opportunity.
DECEMBER 2019
03 December 2019
Goldsmiths' Hall, London
By Invitation Only