Winston Gold Intersects 78.65 g/t Gold in Block 93 Vein.
SeekingAlpha Analyst Targets $0.50 to $1.00
First you read boots on the ground and then you read news like the following.
Is Lucky Minerals Next? Boots on the Ground. Lucky Minerals (LKY.V, LKMNF) Continues Exploration at Two Different Sites.
WINNIPEG, MANITOBA / ACCESSWIRE / September 9, 2020 / Winston Gold Corp. ("Winston Gold" or the "Corporation") (CSE:WGC) (OTCQB:WGMCF) is delighted to report that it hit a 2.5 foot (0.76 metre) drill interval that averaged 2.294 ounces per ton gold (78.65 g/t gold) within the Block 93 vein at its Winston Gold Property near Helena, Montana. This high-grade interval was hosted within a wider, 7 foot (2.13 metre), interval averaging 1.149 opt gold (39.39 g/t).
"This is an exciting time for Winston as we move forward with underground drilling on the Block 93 Vein and bulk test mining on the Parallel vein," commented Murray Nye, CEO and Director of Winston Gold Mines. "Our on-going underground drill program is designed to better define the high-grade Block 93 vein system for future mining operations. The Bulk sample that is now being taken on the Parallel vein will be used as test feed for the Paradine mill."
VOLUME EXPANDS FROM 90,000 TO 5 MILLION SHARES
SEEKING ALPHA ANALYST TARGETS SIGNIFICANTLY HIGHER PRICES
Winston Gold Corporation: Expect Recent Breakout To Go Higher.
In March 2020 we published a detailed blog describing the strong potential of near-production Winston Gold Corporation's Winston Gold Mine. Since then Winston's stock has risen about 70% in value and the mine itself is now about to start production; a major step forward.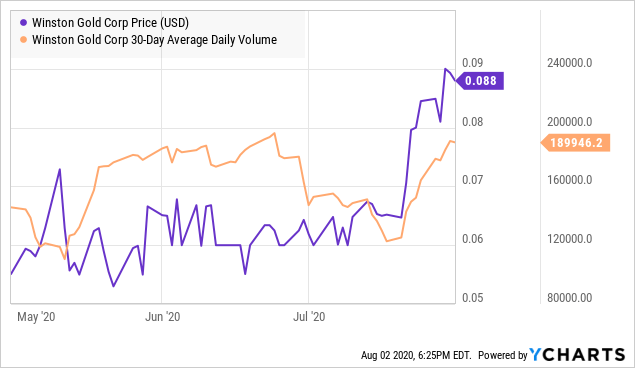 Analyst Conclusion
Winston's recent breakout from US$0.06 to US$0.09 shows that their stock is being noticed as the price of gold rises and Winston moves into production. From our somewhat conservative analysis, we see that Winston has sound fundamentals and with a strong gold price could quite easily increase in price to between US$0.50 and US$1.00.
Client, see report for disclosure and disclaimer details.